Giorgia Di Muro
SCIENZE VETERINARIE PER LA SALUTE ANIMALE E LA SICUREZZA ALIMENTARE
Phd: 37th cycle
Matriculation number: 784597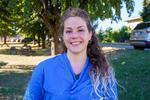 Phd thesis
Project title
Biomarkers identification in cerebrospinal fluid: new approaches for discriminating Central Nervous System disorders in veterinary neurology

Scientific background
Central nervous system (CNS) disorders represent a broad spectrum of diseases of different ethiologies. The therapeutic approach is extremely different for each of these conditions, and the indicated therapy for a specific CNS disease may be critically detrimental for a different one. Cerebrospinal fluid (CSF) surrounds and permeates the CNS. In patients with CNS disorders, the CSF is routinely analyzed for its cellular and chemical composition, and for specific antibodies and infectious agents research, representing a mainstay for the diagnosis of inflammatory CNS disorders. However, current techniques for the CSF analysis do not have high sensitivity and specificity in discriminate different CNS disorders, and for this reason developing other CSF biomarkers is fundamental to further improve the diagnostic value of this analysis.
When the nervous tissue is injured in the course of a CNS pathology, immune system cells, especially different sub-types of CD4 T-cells, produce and release inflammatory mediators such as cytokines, chemokines and growth factors in the CSF, with particular patterns based on the sub-type of cells activated by each etiopathogenetic mechanism.
These different CSF patterns have been evaluated in human medicine, suggesting their utility as biomarkers in early diagnosis, prognosis, and monitoring process. Currently, in veterinary literature cytokines and chemokines CSF profile has been evaluated only in association with certain CNS disorders with promising results.
Another extremely promising biomarker studied in human medicine is the Neurofilament light chain (NfL), one of three subunits of the Neurofilament (NFs) that compose the axonal cytoskeleton. NFs levels increase within the CSF and the blood after axonal damage, so they may be used as biomarker able to quantify neuronal damage in various CNS diseases even before the occurrence of severe clinical signs, to predict probable disorder progression and to monitor the effects of therapies.
In veterinary medicine, the role of NfL as a CSF biomarker has been evaluated only once to date, and the study identified a potential utility of NfL for the diagnosis, prognosis, and monitoring of meningoencephalitis of unknown etiology (MUE) in dogs
Aims
Based on these premises, the aim of the present PhD project is to evaluate specific CSF patterns of cytokines and chemokines and CSF and blood NfL concentration in different small and large animals' neurological disorders. The main and primary objective is to improve the possibilities of a prompt diagnosis, especially the capability to discriminate among different CNS diseases, with mild invasive procedures such as blood and CSF collection and analysis. An early identification of the ongoing pathology is essential to promote an appropriate and rational usage of drugs, and to reduce the mortality associated with these conditions.
Specifically, the research project will consist of the sequent objectives:
- Evaluation and quantification of a selected panel of cytokines and chemokines on CSF samples collected from large and small animals referred to the Neurology Service of the Veterinary Teaching Hospital (VTH) of Turin with a CNS disease.
- Evaluation and quantification of NfL on blood and CSF samples collected from the population mentioned above. Assessment of the correlation between blood and CSF NfL concentration.
- Assessment of the feasibility of individual molecules in distinguishing between different CNS disorders, development of specific CSF biomarkers profiles for each category of CNS disease and proposal of an algorithm for CNS diseases diagnosis using these data.
References
Fortuna D, Hooper DC, Roberts AL, Harshyne LA, Nagurney M, Curtis MT. Potential role of CSF
cytokine profile in discriminating infectious from non-infectious CNS disorders. PLoS ONE. 2018 Oct;13(10):1–17.
de Lahunta A, Glass E, Kent M. Veterinary Neuroanatomy and Clinical Neurology. Fifth edition.
Philadelphia: Elsevier; 2021. 607 p.
Kothur K, Wienholt L, Brilot F, Dale RC. CSF cytokines/chemokines as biomarkers in
neuroinflammatory CNS disorders: A systematic review. Cytokine. 2016 Jan;77:227–37.
Zelek WM, Fathalla D, Morgan A, Touchard S, Loveless S, Tallantyre E, et al. Cerebrospinal fluid complement system biomarkers in demyelinating disease. Mult Scler. 2020 Dec;26(14):1929–37.
Kwon BK, Stammers AMT, Belanger LM, Bernardo A, Chan D, Bishop CM, et al. Cerebrospinal Fluid Inflammatory Cytokines and Biomarkers of Injury Severity in Acute Human Spinal Cord Injury. Journal of Neurotrauma. 2010 Apr;27(4):669–82.
Coutinho LG, Grandgirard D, Leib SL, Agnez-Lima LF. Cerebrospinal-fluid cytokine and chemokine profile in patients with pneumococcal and meningococcal meningitis. BMC Infect Dis. 2013 Dec;13(1):326.
d'Abramo C, D'Adamio L, Giliberto L. Significance of Blood and Cerebrospinal Fluid Biomarkers for Alzheimer's Disease: Sensitivity, Specificity and Potential for Clinical Use. JPM. 2020 Sep;10(3):116.
Burgener I, Van Ham L, Jaggy A, Vandevelde M, Tipold A. Chemotactic activity and IL-8 levels in the cerebrospinal fluid in canine steroid responsive meningitis–arteriitis. Journal of Neuroimmunology. 1998 Aug;89(1–2):182–90.
Gredal H, Thomsen BB, Boza-Serrano A, Garosi L, Rusbridge C, Anthony D, et al. Interleukin-6 is increased in plasma and cerebrospinal fluid of community-dwelling domestic dogs with acute ischaemic stroke. NeuroReport. 2017 Feb;28(3):134–40.
Kostic D, Carlson R, Henke D, Rohn K, Tipold A. Evaluation of IL-1β levels in epilepsy and traumatic
brain injury dogs. BMC Neurosci. 2019 Jun;20(1):20–9.
Martin-Vaquero P, da Costa RC, Moore SA, Gross AC, Eubank TD. Cytokine Concentrations in the Cerebrospinal Fluid of Great Danes with Cervical Spondylomyelopathy. J Vet Intern Med. 2014 Jul;28(4):1268–74.
Merbl Y, Sommer A, Aroch I, Zimmerman G, Friedman A, Soreq H, et al. Tumor necrosis factor-α and interleukin-6 concentrations in cerebrospinal fluid of dogs after seizures. J Vet Intern Med. 2014 Dec;28(6):1775–81.
Spitzbarth I, Baumgärtner W, Beineke A. The role of pro- and anti-inflammatory cytokines in the pathogenesis of spontaneous canine CNS diseases. Veterinary Immunology and Immunopathology. 2012 Jun;147(1–2):6–24.
Taylor AR, Welsh CJ, Young C, Spoor E, Kerwin SC, Griffin JF, et al. Cerebrospinal Fluid Inflammatory Cytokines and Chemokines in Naturally Occurring Canine Spinal Cord Injury. Journal of Neurotrauma. 2014 Sep;31(18):1561–9.
Willems N, Tellegen AR, Bergknut N, Creemers LB, Wolfswinkel J, Freudigmann C, et al. Inflammatory profiles in canine intervertebral disc degeneration. BMC Vet Res. 2016 Dec;12(1):10.
Dung Le N, Muri L, Grandgirard D, Kuhle J, Leppert D, Leib SL. Evaluation of neurofilament light chain in the cerebrospinal fluid and blood as a biomarker for neuronal damage in experimental pneumococcal meningitis. J Neuroinflammation. 2020 Dec;17(1):293.
Olsson B, Portelius E, Cullen NC, Sandelius Å, Zetterberg H, Andreasson U, et al. Association of Cerebrospinal Fluid Neurofilament Light Protein Levels With Cognition in Patients With Dementia, Motor Neuron Disease, and Movement Disorders. JAMA Neurol. 2019 Mar;76(3):318.
Kuhle J, Disanto G, Lorscheider J, Stites T, Chen Y, Dahlke F, et al. Fingolimod and CSF
neurofilament light chain levels in relapsing-remitting multiple sclerosis. Neurology. 2015
Apr;84(16):1639–43.
Disanto G, Barro C, Benkert P, Naegelin Y, Schädelin S, Giardiello A, et al. Serum Neurofilament light: A biomarker of neuronal damage in multiple sclerosis: Serum NfL as a Biomarker in MS. Ann Neurol. 2017 Jun;81(6):857–70.
Yun T, Koo Y, Chae Y, Lee D, Kim H, Kim S, et al. Neurofilament light chain as a biomarker of meningoencephalitis of unknown etiology in dogs. J Vet Intern Med. 2021 Jul;35(4):1865–72.
Research activities
Attended courses and congress
34th ESVN-ECVN Symposium, 22th-24th September 2022, Palma de Mallorca, Spain
Grant Writing Course - How to write a Competitive Application to a Funding Agency, 5th-9th September 2022, Turin, Italy
Practical course by SCIVAC "Neurodiagnostica RM", 30th June-2nd July 2022, Cremona, Italy
Live webinar by ESAOTE "MRI of CNS Vascular diseases by Dr. Cristian Falzone", 27th April 2022, online meeting
SINVET Meeting with Dennis O'Brien, 9th April 2022, online meeting
Theoretical-practical course "Filmmaking for Scientists", 13th-17th December 2022, Turin, Italy
SINVET Meeting "Diagnostica per immagini in neurologia veterinaria: quanto avanzata?", 27th November 2021, online meeting
Publications
All of my research products